5 Mar 2020
Interpreter and Translator at Reputable International Organization
Are you an employer looking to recruit qualified candidates? Post Premium Jobs Today.
We have the Largest Job Seeker Visits!!
Find Out Here
---
ORGANISATIONAL CONTEXT
The Permanent Secretariat is established within the Joint Management Committee (JMC) of the Joint Border Post (JBP) for assisting the JMC in its role of determining the administrative measures necessary to control the establishment and the proper functioning of the JBP, and to resolve any difficulties that may result. The JMC establishes bilateral Subcommittees composed of officers and involving private operators from the adjoining States directly involved in border controls. All of these structures deal with many documents and have intense communication using English and French as daily working languages.
The Permanent Secretariat is staffed by a Permanent Administrator, an Administrative & Financial Assistant and an Interpreter-Translator. It provides, among other facilitation services, interpretation and translation services required by the JMC and its Subcommittees.
OBJECTIVES OF THE POSITION
The Interpreter-Translator's main objectives are:
Provide the Permanent Secretariat with the linguistic expertise necessary to process any working document and communicate in the language used by each of the adjoining States represented in the JMC.
Facilitate communications within the JMC and professional exchanges with all of the stakeholders in the conduct of the JBP's affairs.
TASKS AND RESPONSIBILITIES 
Receive interpreting and translation requests from English to French (and vice versa) and respond with quality services;
Provide interpreting services from English to French and vice versa at meetings, workshops, conferences, field visits and special events of the JBP, including, but not limited to, team meetings, and individual interviews;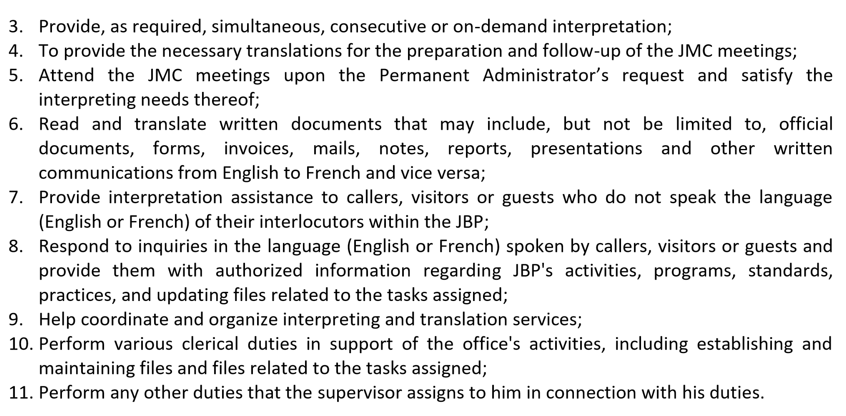 TECHNICAL EXPERTISE
Have excellent command of English and French, both written and oral
Understanding of the skills required to interpret and translate in this professional environment
Be able to interpret and translate with confidence technical information in areas of interest to the JBP, including ECOWAS enactments and bilateral agreements, customs, procedures, immigration, health, interstate transportation and transit
Demonstrate good experience of interpreting and translation in a multicultural environment
To be able to write in such a way as to reproduce the structure and style of the original text while preserving the accuracy of the ideas and material facts of the original text
Master Word, Excel, PowerPoint, Publisher, Computer Assisted Translation (CAT) tools
OTHER DESIRABLE SKILLS
Have excellent listening skills and know how to relay messages with fidelity, speed and clarity
Be available to provide evening and weekend interpretation services in exceptional circumstances
Maintain the strict confidentiality of sensitive information received during the execution of the function
ACADEMIC QUALIFICATIONS AND PROFESSIONAL EXPERIENCE
Master's degree in Linguistics, Modern Literature, or English-French plus specialized Master II
At least five years of professional experience in translating written documents and simultaneous interpreting.
Employer: Permanent Secretariat of the Joint Management Committee of the [Noepe-Akanu/ Seme-Krake] Joint Border Post
Supervisor: Permanent Administrator
Job station: [Noepe in the Togolese Republic] [ Seme in the Republic of Benin]
---
&nbsp&nbsp&nbsp&nbsp&nbsp&nbspMethod of Application
If you are interested in this position please send your CV and Cover Letter (not more than 2 page) under the heading: "Interpreter and Translator - JBP"
to "[email protected]".
---
JOB FRAUD ALERT - BE WARNED!!
Do NOT Pay MONEY to any Employer Before Getting a JOB!! : Call +233(0)201533571 to Report a Job To Be Pulled Down ASAP!!
---
Apply for this Job