5 Sep 2016
Graduates Enlistment into the Ghana Police Service (2016 Jobs)

Are you an employer looking to recruit qualified candidates? Post Premium Jobs Today.
We have the Largest Job Seeker Visits!!
Find Out Here
---
The Ghana Police Service would from Monday September 5, open application for another set of new recruits. This exercise will target degree holders and professionals including lawyers with at least three years working experience.
Meanwhile, the police will from next week, release the list of recruits in the recent recruitment exercise.
Public Relations Director of the Ghana Police Service, Superintendent Cephas Arthur, said the purpose of the exercise will help bring more professionals in the service."We have various levels of enlistment or recruitment into the service. We have basic recruitment to start from the scratch; constables and then you climb up. And then we have another level being graduate recruitment then we have another one for professionals."
"We have another one for people with vocations then we have for medical specialists, auditors, the engineering aspect of communication, public relations practitioners, legal officers, people with statistics background, clinical psychologists, biochemistry, those people are all going to have slots within this particular enlistment," he added.
NB: For Detailed Job Description and Application, visit Daily Graphic, Monday, September 5, 2016. Pages 77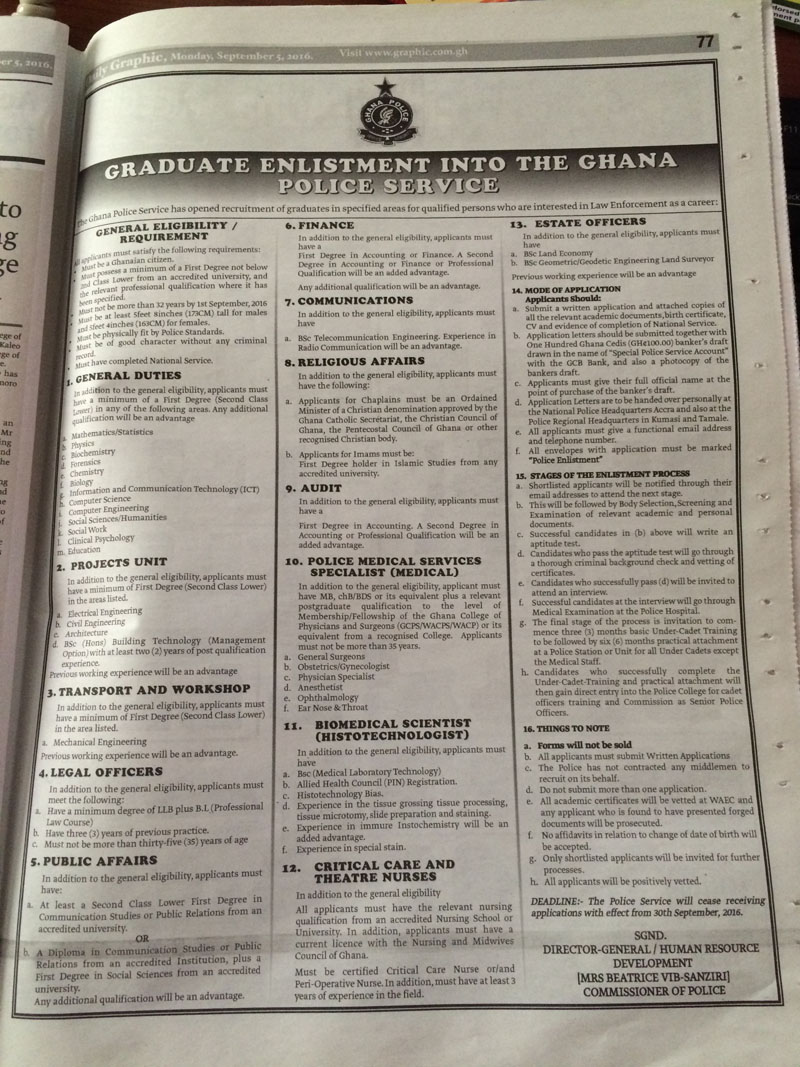 How to Apply
NB: For Detailed Job Description and Application, visit Daily Graphic, Monday, September 5, 2016. Pages 77
---
Dont Miss Latest Jobs In Ghana. Subscribe Today. CLICK HERE
Apply for this Job
Must Read Articles

Latest Jobs in Ghana